Happy Wednesday friends!
Finally bringing the Nigerian Wedding Series to my blog.
It's wedding season all over the world. If there is one thing that Nigerians can make a big show of, it is weddings and birthdays. This series will be focusing on the Yoruba weddings. Yoruba is one of three biggest ethnic groups in Nigeria, the other two being Igbo and Hausa. I am Yoruba and can only speak for our wedding traditions.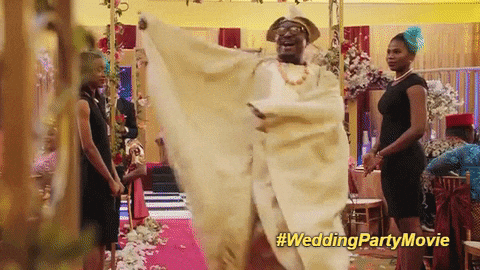 Aso Ebi
"Aso" means cloth and "Ebi" means family. Aso Ebi is a traditional dress wear that is worn in Nigeria to serve as an identification with a group of people such as peers, a bride's family, a groom's family or friends during special occasions like weddings. It does not only signify identification but it also attracts attention to the various groups based on the material such as Ankara or lace, the style of the dress wear, and the colours of the fabric.
When a Nigerian couple is getting married, whether it is in Nigeria, their diaspora/home country or a destination wedding, there is usually a traditional (trad) wedding and a white wedding. The Aso Ebi can be worn to both the trad and the white wedding. The bride and the groom choose different colours for their family and friends to wear on the day. It helps to distinguish which guests are from the bride's side and which guests are from the groom's.
Aso Ebi Bella
I just attended my first Nigerian wedding at the end of May 2018 in the UK. My oldest friend got married and it was her wedding the inspired this series. I was an Aso Ebi Bella, which simply means a wedding guest (bella) that looks stunning in the fabric and colours of the day. There are so many fabrics, designs and colours that that engaged couples choose for their guests. The colours of the specific wedding I attended were: burgundy & white for the trad and for the white wedding, they were pink for the bride's family and blue for the groom's family.
If you want to see more designs, colours and fabrics for the weddings, check out this website and check out these instagram accounts for more wedding inspirations: BellaNaijaWeddings and AsoEbiBella.
Don't forget to interact with me on my other platforms 😊
Until next time,
FolakemiOlamide